HOME Page Gallery
ARTWORK BY PHIL, MARGARET & ALEX
The Images of the "HOME" page can be viewed on this Gallery.
Thinking of a bespoke Present for a Special Event in 2018?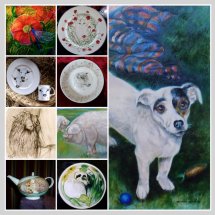 My prices for Hand Painted Tiles (not printed tiles) usually starts at £12.50 per tile. This would include tiles with minimal design work. When producing a Portrait, likeness and attention to detail is important, so the process means that this unique application is extremely time consuming.
Thus the price of a portrait on a 6 inch Tile would cost £49.99. If you wanted to commission a Portrait Tile, I would require at least one photograph of your chosen subject, with a few words about their personality.
The Taylor Family Project Images (Left) will now be completed in 2016. "The Cat" by Alex Taylor.
Photographic Images by Phil Taylor. Oil Paintings by Margaret Taylor.
Please e-mail Margaret for more information.
mpt@themargarettaylorcollection.co.uk...